Madagascar 2014/02: Some one hundred minors at the Diego Suarez Detention Centre were not separated from the adult inmates. With the help of a subsidy from the 1% Fund and other donors, their living conditions have now improved, following the demolition of unrepairable buildings, restoration of the dormitory buildings and multi-purpose room, and construction of toilets, kitchen, dormitories, stores/office, surrounding wall, electricity and water supplies. The minors themselves were involved in the work throughout. The new classroom means that all the young inmates can actually be schooled. The outside space is used to grow seedlings, as well as for various sports. The seven members of the team from partner NGO Grandir Dignement can therefore work on site to inculcate good hygiene practices, including medical care, compliance with rules and respect for others: they learn the social responsibilities required for a stable future.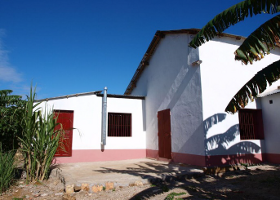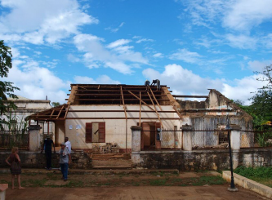 Madagascar 2014/01: Following drilling to a depth of 78 metres and insertion of 4 tanks (5m3), two water points each with 3 taps have been installed at the market, near the school and dispensary of Ampitanaka and 25 neighbouring villages (4,600 direct beneficiaries). The people now have access to cheap drinking water both for household use and for irrigation of agricultural plots. Women and children will avoid spending hours fetching water (often polluted) far from their dwellings and depending on speculators/salesmen. Access to drinking water should also reduce illness caused by consumption of polluted water.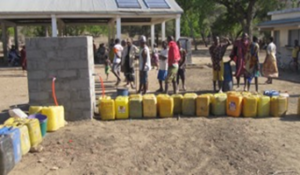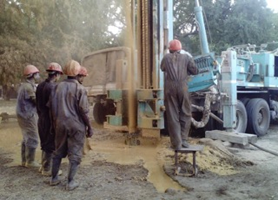 Uganda 2013/01: The Foundation for Uganda Women's Development approached the Fund for support for the construction of briquette presses and the organization of courses in their use. Charcoal and agricultural waste can be mixed and pressed to yield fuel briquettes that replace wood for cooking and heating. Ranging the countryside in search of wood is dangerous for the women and girls who do it, and degrading to the environment. Now members of 228 households are finding employment in the production and distribution of briquettes, and 38 villages in Nakaloke Township are enjoying the benefits of this technology.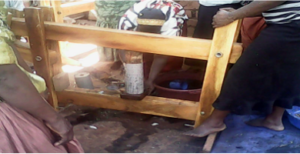 The Fund has supported other FFUWD projects, most recently fish farming.
Bolivia 2012/01: In Bolivia, 83% of children and 69% of women suffer domestic violence. To provide a refuge in the centre of Cochabamba, Voix Libres Suisse purchased a house of 240 square metres. The 1% Fund has been requested to cover the cost of equipment and furniture: four solar ovens, tables, chairs, benches, bunk beds, shelves, desks, cabinets, etc. Most of these items are being produced by the carpentry workshop run by the women. The shelter is easily accessible to victims and facilitates collaboration with judicial institutions, the municipality and the police. Voix Libres provides: legal support by a team of proactive women lawyers (for the benefit of about 730 women and 300 children); a hotline; emergency lodging, medical and therapeutic support (for about 150 women and their children); training and production (in a bakery shop and a textiles workshop) for about 160 women; a kindergarten that frees women for training; interest-free micro-credit for approximately 300 women; abuse-prevention campaigns in 45 schools located in poor neighbourhoods and four prisons.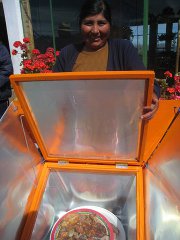 Benin 2010/01: After fire ravaged the market of Agonsa Waé in Sakété Arrondissement, the 1% for Development Fund helped local non-governmental organisation GERAPIA rebuild with fireproof materials. Beneficiaries include not only the vendors and their families – some 300 persons – but all the customers who will enjoy a cleaner and safer market.
Albania 2009/01: Two schools in remote towns have been provided with computers, furniture and training. Pupils, teachers and staff can develop the same knowledge and skills as their counterparts in less isolated communities.
See more projects in our Gallery . . .
. . . and eye-witness accounts from members and friends who have visited project sites:
Recent programmes that have been completed:
Partner NGO: Namayiana Oloshoibor (Kenya)
Programme : Infrastructures for the Namayiana Maasai Women Handicraft Centre. Co-financed by the Service de la solidarité internationale of the Canton of Genève.
Beneficiaries : 112 women craft workers and the young children who accompany their mothers and grand-mothers when they come to work at the centre
The main objective of the programme is the construction of a building (completed in June 2014) which will be equipped with electricity and will have access to clean water. It will bring an important improvement in the women's working conditions and will provide rooms where the children can play and sleep.
Partner NGO: Mate Cocido (Argentina)
Programme: Social and economic integration of students through access to technical secondary education. The main objective is both to train the pupils but also to ensure the school can finance itself through income from the sale of agricultural products.
Beneficiaries: Between 2012 and 2015, the school had from 40 to 60 pupils. Of the 19 pupils who completed the course, some have found jobs in town, while others have continued their studies or started other courses. Three pupils are now themselves trainers and are actively involved in developing the cooperative.
With help from the 1% Fund, the project built a classroom, toilets, a kitchen and a community room to be used by pupils and members of the cooperative. The cooperative needed a meeting-space to strengthen the cooperative links among members. The school now produces eggs, vegetables, milk, cheese and veal. The vegetables are for local consumption. The products are used to feed many children at home and in another nearby neighbourhood : some 180 meals per day. The cooperative concentrates basically on dairy products: milk, cheese and condensed milk. The aim is to sell 250 litres of milk (or 25 cheeses) per day, in order for members to earn 4,000 pesos; the cooperative will therefore acquire a further 20 cows. The cooperative will be self-financing in five to six months.
Partner NGO: Itarai Asha Deep (India)
Programme: Community support project in West Bengal
Beneficiaries: Over 6000 persons using the clinic and 55 children attending the nursery school run by the NGO
The first project (construction of a flood-resistant building for community support services) began in February 2013. Health care and health education activities (as shown here) will be able to continue without interruption when floods occur.
Partner NGO: Jeunesse Ambition (Benin)
Programme: education and environmental health enhancement to help reduce infant and maternal mortality and morbidity in unhealthy rural areas.
Project 1 (Aug.-Oct. 2013):Installation of a multimedia training and documentation centre, with a decentralized library.
Beneficiaries: more than 1000 pupils.
The Zagnanado school district had no library or reading centre either for pupils or teachers. The new education curriculum requires IT searches by Internet and in different books, particularly by African authors. The project set up a library (reading room) equipped with computers and a photocopier. Six isolated and remote villages have been identified to receive novels and other books periodically, transported in the form of a mobile library by a trained officer of Jeunesse Ambition. (A 3-wheel motorbike has been acquired to go around the schools.)
Project 2 (Feb.-May 2014): Awareness-raising and building of 6 ecological double-pit latrines in 3 unhealthy villages.
Beneficiaries: Over 1000 pupils and the population of the 3 villages.
Some 300 children at schools in 3 unhealthy villages were trained in Comprehensive Community-Led Sanitation (ATPC). Six double-pit latrines were installed in 3 unhealthy villages (2 per village). Awareness-raising sessions are organised and led by children for their peers.
Project 3 (Nov. 2014-March 2015)
Beneficiaries: 139 orphans and over 600 pupils.
A village health unit equipped with materials for primary health care, small-scale surgery and infant-maternity care was built, equipped and made operational. It is run by a health officer recruited and trained with the help of the NGO Médecins d'Afrique (MedAf).
Partner NGO: CRADIB (Centre de recherche et d'action pour le développement des infrastructures de base) – Benin
Two programmes were co-financed by the Service de la solidarité internationale of the Canton of Genève:
Development of the production of cashew products by cooperatives of women in Benin (2010-2011)
Infrastructures and training for cooperatives of women producing cashew products and soya (2012-2014)
Beneficiaries: 1280 women who are members of cooperatives in seven communities (communes) which extend over 14 000 km2 in central Benin
The two programmes financed the construction of five buildings, each composed of a storage facility for agricultural products being prepared for marketing and a room used for meetings and training activities. The programmes also provided support for literacy courses and for training in marketing and management in order to increase the women's capacity to take charge of the cooperatives' activities. In addition, the second programme financed the construction of a shelter (with dormitory accommodations) where the representatives of the seven communities can meet to coordinate their work.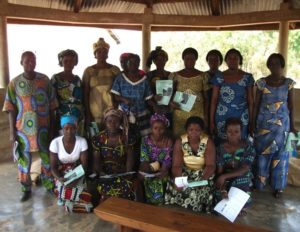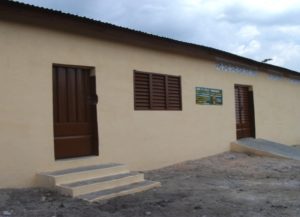 A new project, financed since July 2014, is focused on the marketing of processed cashew nuts: a source of extra income and of pride for the women.